Walk among giraffes, elephants and zebras
with Maasai guides
Tanzania is a land of endless plains – except for a few volcanoes that seem to rise from the earth's depths, such as the Kilimanjaro – which promises an unforgettable immersion in the animal kingdom. Meet dozens of wild species in the Tanzanian bush, observe them closely or from afar in your 4×4, and spend the night lulled by the sounds of the surrounding savannah.
Tanzania is also the cradle of the Maasai culture, a warm and welcoming people that you will have the chance to meet when passing by traditional villages.
Looking for a tailor-made trip to Tanzania? Weisse takes care of everything for you so you can enjoy an unforgettable safari experience.
Safaris
Discovering the Maasai culture
Lake Manyara
Zanzibar beaches
A memorable family trip
Safaris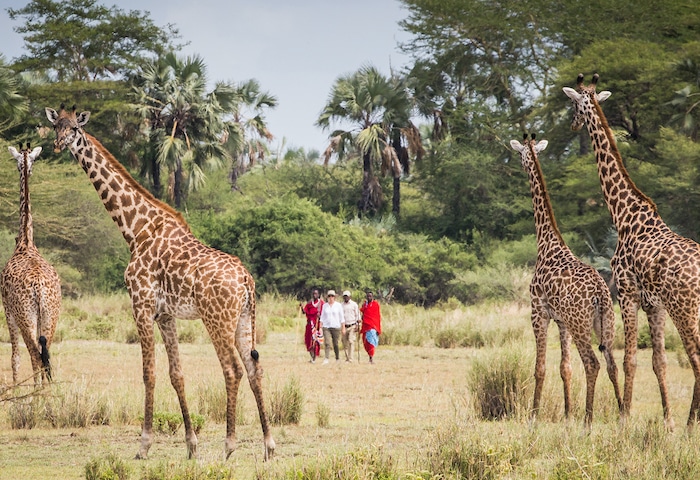 You can observe wildlife in total freedom in its natural environment: elephants, hippos, giraffes… To get off the beaten track, you can opt for a walking safari in total immersion in the African bush. This is an opportunity to see many species from up close!
Discovering the Maasai culture
Lake Manyara
Zanzibar beaches
A memorable family trip
"An unforgettable trip, punctuated by the lovely song of our driver-ranger Amani, which led us from one stop to another: Arusha, then the Chem Chem Lodge, where we had the chance to participate in a walking safari and observe lesser-known species on the edge of Lake Manyara, a flat and arid expanse which has the particularity of emptying itself entirely of its water once the rainy season is over.
After a few days on safari watching giraffes, elephants, hippos and wildebeest, we made an impromptu stop in a village to meet a Maasai tribe, all dressed in beautiful clothes and jewellery, and shared some fantastic moments with them: the children were able to play football with the village children while we joined a traditional dance and watched them go about their daily business!
After a few nights at Gibbs Farm and then at the Ngorongoro Crater Lodge, we arrived at the Mwiba Lodge, our last stop – incredibly well decorated – before leaving for Zanzibar.
There, in addition to the magnificent refreshing pool, the welcome was impeccable: the Baraza hotel staff taught the children how to weave and make accessories, while we met women selling traditional fabrics on the beach.
In conclusion: lots of memories, and a difficult goodbye for the children who had become so attached to this very exciting Africa!"
— Olivier Weisse
Une expérience unique à partager
Chem Chem Lodge
Mwiba Lodge
Chem Chem Lodge
Let stillness seep into your soul as herds of animals wander between watering holes, savannah grasslands and a vast salt pan. Slow down and experience nature from the most select of spaces in safari-chic accommodation.
Chem Chem Lodge is a sophisticated oasis with a calm energy that embodies the slow safari. It's a space where an organic palette of colour and texture reflects the natural beauty beyond. Here, handcrafted furniture and artworks adorn the spacious lodge and airy suites, and every element is our tribute to the remarkable lands we call home.
Mwiba Lodge