Discover the spectacular landscapes of
Colorado and Utah by 4X4
Colorado, Utah, Nevada: the Wild West will soon hold no secrets for you! Weisse reinvents the road trip in the US thanks to a clever mix of authentic adventures, exceptional accommodation and unforgettable encounters.
Looking for a tailor-made road trip in the US? Weisse takes care of everything for you: once you've got your car keys, turn on the ignition, press the gas and enjoy the landscapes surrounding you. It's as simple as that.
We love a US road trip for…
Its kaleidoscope of landscapes
A 4x4 family experience
The Western culture
Filling up on adventures
Its kaleidoscope of landscapes
Going on a road trip allows you to discover a large number of regions and landscapes, each one as grandiose as the next, in a manageable amount of time.
A 4x4 family experience
The Western culture
Filling up on adventures
"No sooner had we arrived in Houston than we were on our way to Colorado to reach the Zapata Ranch, our first stop. There, the landscape of the Great Sand Dunes National Park takes our breath away. It's a first encounter with the bison for the kids, who left their skateboards for a few hours to go and meet this completely wild environment.
Getting back behind the wheel, we reach Dunton Hot Springs a few hundred kilometres later, a ranch built on a ghost town where gold seekers once jostled. Between hikes, baths in natural hot springs and learning the names of the American states for the kids, time flies.
The last stop in the desert is the Amangiri, with its sleek design that blends into the surrounding rocks. After a visit to the Grand Canyon, we follow the Navajo guide to Monument Valley or Bryce and Zion National Parks before kayaking on Lake Powell. A hot air balloon ride offers an incredible view of all the national parks.
In total: 2,700 kilometres covered, we are ready to go again!"
— Olivier Weisse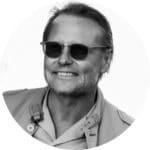 Une expérience unique à partager
Amangiri
Dunton Hot Springs
Zapata Ranch
Amangiri
It's impossible to stay indifferent to this singular hotel that charms by its clean, elegant and harmonious design. Uniting with the plateaus of Canyon Point that surround it, Amangiri is an UFO in the middle of the American Far West. Concrete walls, white stone floors, ocher and pinkish colors reminding us of the rocks around it… the suites fascinate as much as the landscape.  Each suite has a terrace with a fireplace – perfect for friendly evenings under the crazy starry sky. During the day, the views of the Utah desert are mind-blowing.
Dunton Hot Springs
Zapata Ranch